The PKF Network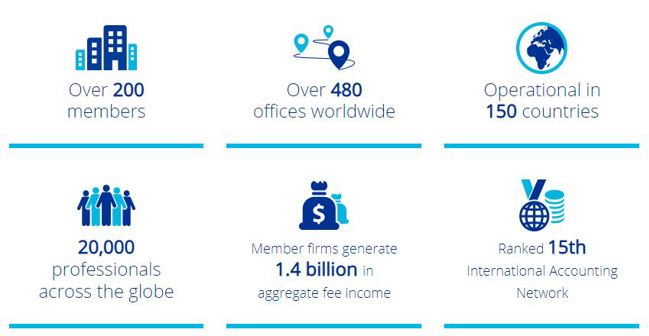 PKF International Limited (PKFI) administers the PKF network of legally independent member firms. PKFI is the 15th largest global accountancy network and its member firms have $1.4 billion aggregate fee income.
The PKFI network has over 200 member firms and correspondents in around 150 countries, providing accounting and business advisory services through over 480 offices worldwide.
PKF International is a network member of the Forum of Firms, an organisation dedicated to consistent and high quality standards of financial reporting and auditing practices worldwide.
PKF International operates on a global scale by means of quality standards recognised at the association level, with the aim of providing auditing and consultation services of the highest quality. Each company in the network is subject to regular quality controls aimed at ensuring that all members respect the association's standards.
In Switzerland, PKF International is one of the most highly qualified consultancy and auditing companies and operates through its main offices in Lugano, Geneva, and Zurich.
The PKFI network of legally independent firms does not accept any responsibility or liability for the actions or inactions of the part of any individual member firm or firms.
For further information about PKF International or its member firms, please visit www.pkf.com.